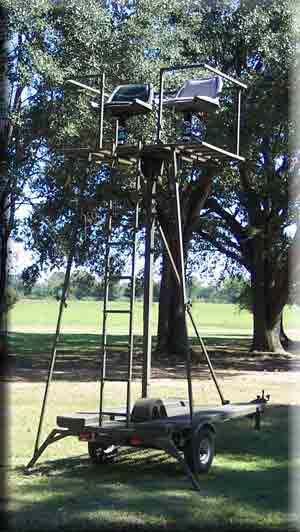 A uniquely designed Retractable Stand that also doubles as a Four Wheeler Trailer, giving the indiviual means to carry his/her Four Wheeler to a preferrred location!

Once on location, BuckTracker can be hitched to a Four Wheeler or other suitable means and towed to your desired hunting spot. Manufactured to be as narrow as your Four Wheeler, BuckTracker can easily be towed to any location and can be used for hunting, observation, photography, sporting events, etc.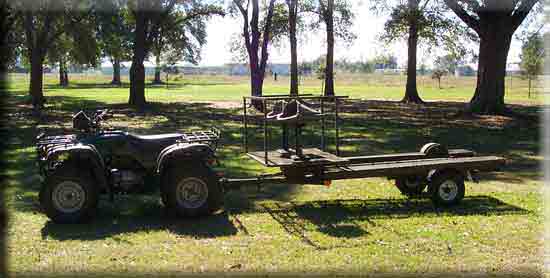 With its 3' x 5' platform that can be telescoped sitting range of 11' and equipped with an adjustable seating bracket that can accomodate one or two individuals, the Buck Tracker can be easily set up in a matter of minutes.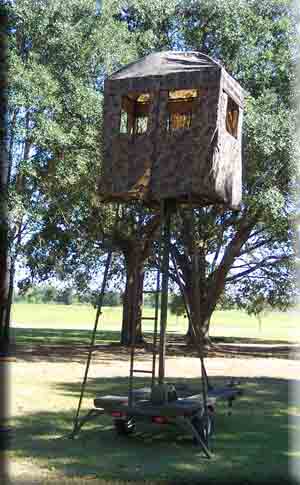 | | |
| --- | --- |
| | Dealer Information is available upon request. |
If you have any inquiries, please contact Dean Smith at: smitbuilt70535@aol.com
US Patent No. 6523641
Manufactured by SmitBuilt
P.O. Box 468
Eunice, LA 70535
337-457-8999
deer hunting stand, atv trailer, convertible trailer, deer stand, buck tracker by SmitBuilt, four wheeler trailer, telescoping stand, portable surveillance tower, BuckTracker, Richard Dean Smith, all terrain vehicle, Eunice, narrow cart, off road trailer, portable stand